Railroading Merit Badge Class
For the second year in a row, the Boys Scouts of America and The San Diego Railroad Museum have joined forces to put on a Railroading merit badge class. On July 28th, 1998 twenty-five boys met at the headquarters of the Boy Scouts in San Diego for the first part of a two-session course. Scouting merit badge counselors Randy Gibson, Jack O'Lexey, and Terry Clark (who are also museum members) and museum member Lamar Schuerman conducted sessions in railroad safety through Operation Lifesaver, signaling, railroad organization, the functioning of Diesel and steam locomotives and much more.

On Saturday, August 15th, sixteen boys attended the second session at Campo. All the boys brought their completed homework assignment and spent the day at the museum with Museum members learning more about railroading. Among those assisting at the classes were Allan Dillane, Randy Gibson, Terry Clark, Jim Baker, Roger Challberg, Dick Pennick and Mike Reneau.

The boys learned about steam engines, the functions of cabooses, visited the post office car, and spent time learning about the Diesel locomotive and going up into the cab. It was an exciting time for them! The dreaded "TEST" came just after lunch. But, since they all had really paid attention and had attended both sessions and done the homework no one was surprised when they all passed!

Sixteen boys completed the merit badge and they and other family members enjoyed a last trip to Miller Creek at the end of their day of fun and enjoyment. There were lots of inquiries about working at the museum from both boys and parents. Maybe we recruited some new blood, if not for today then, perhaps for our future. Certainly, a good time was had by all, both scouts and families and our museum volunteers. Good job, everyone! We hope to continue this and have another class next year.
(Click on picture for a full-size image)
All photos by Terry Clark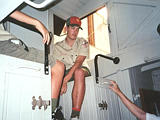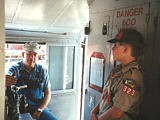 Left: The boys have a look inside a real caboose.

Right: Dick Pennick describes the brake stand on locomotive #1820.

---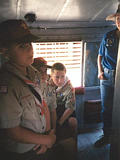 Left: The boys climb down from locomotive MRS-1 #1820.

Right: Listening intently to how a Diesel locomotive is operated.

---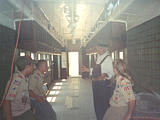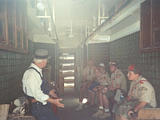 Left and Right: Allan Dillane describes how our Santa Fe Railway Post Office (RPO) car carried the mail. It is being restored.

---
Back


Return to the San Diego Railroad Museum
This page last updated 7/12/99