The Julian Stage
The 1912 Julian Stage hauled passengers to Julian from the end of the railroad line at Foster. Foster was the eastern end of the the line out beyond Lakeside (now under water below San Vicente dam). The Stage belongs to the Julian Historical Society and the restoration work was done at Campo at the Motor Transport Museum. These photos were taken just after the completion of its restoration.
Click on a photo to see it full-size.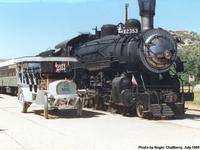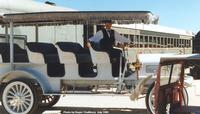 Left: The Julian Stage and SP#2353 were both built in 1912.
Right: The stage could seat 10 passengers comfortably.

---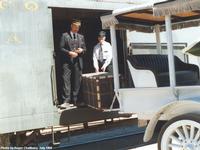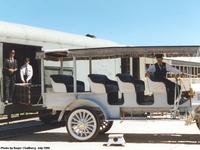 Left: Conductor Robin Becker and Trainman Beverly Hodges load the stage from the baggage car.

Right: The Stage is driven today by Jim Polloreno.

---
Page last updated 12-17-2007